Diamond Viper II Z200 - Savage2000 "failsafe" driver update information (win9x):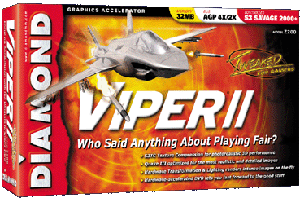 1.
Go to START_> Settings -> Control pannel and goto: System
Choose Hardware->devicemanager and got Display adapters and
remove the Diamond Viper II
DON'T restart or reboot.

2.
Then start regedit (Start->run->regedit.exe) (be carefull using regedit,
you may destroy your windows setup if used wrong)
Remove the folowing keys:
HKEY_LOCAL_MACHINE/System/CurrentControlSet/Services/Class/Display/
HKEY_LOCAL_MACHINE/Config/001/Display/Settings

Again DON'T restart or reboot.

3.
Go back to you Control Panel (see step 1) and add new hardware. Select the hardware yourself: The Standard VGA Adapter.

4.
NOW install the new drivers.

5.
After installation restart/reboot your computer and you're done.

6.
If the driver performs worse then before, repeat this procedure in order to
reinstall your original drivers.